Antidote Wiki/Top section
Welcome to the Official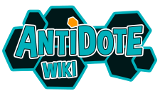 We are currently maintaining 256 pages (22 articles).
Please feel free to contribute by creating new articles or expanding existing ones.
About Antidote
In the times of populism and false information, it's time to Make Science Great again! Antidote is a premium quality, casual, tower defense, strategic, free to download and play game for mobile phones. It is a game built on real science made to inspire you to curiosity and understanding. Play under the microscope and defend the stem cell from waves of viruses and bacteria. Use the body's amazing defense cells to beat back infections and create a cure.
Antidote is in active development, and has an open changemap where you can suggest features and vote on things you want to see in the game.